Juicy Oven Baked Chicken Breasts
These juicy oven baked chicken breasts come out perfect every time! Say goodbye to dry chicken with this easy recipe for tender & flavorful chicken breasts.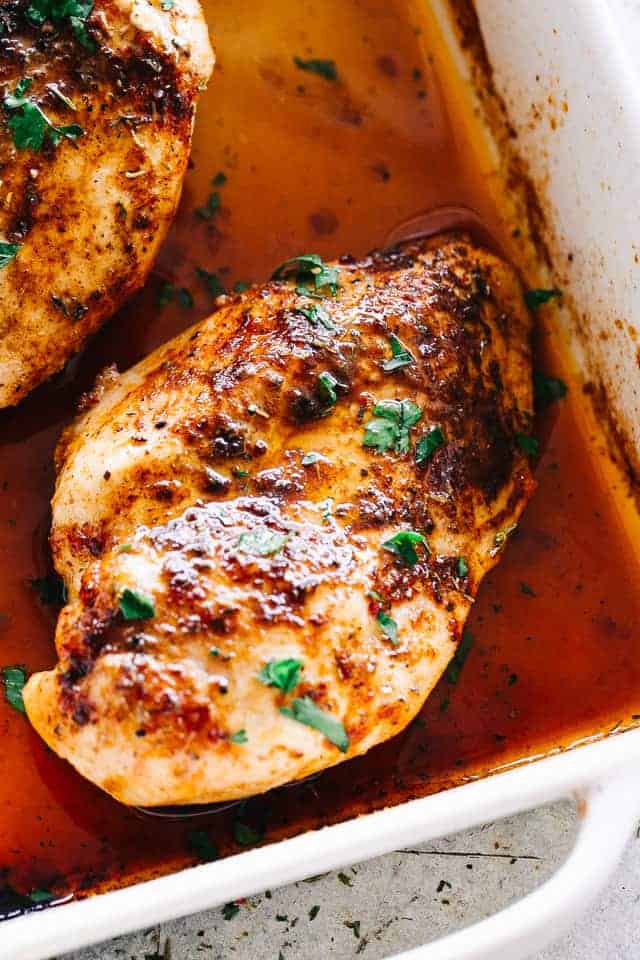 MY QUEST FOR THE PERFECT BAKED CHICKEN RECIPE MAY BE OVER
My quest for juicy baked chicken breasts recipe continues. Truthfully, I don't know if I'll ever stop searching for new ways to make simple baked chicken. HOWEVER, this Juicy Oven Baked Chicken Breasts recipe MIGHT have changed my mind.
Slap me silly, but I had no idea that brining chicken breasts in salted water for 20 minutes results in over-the-top delicious chicken! Did you all know that? I mean, seriously. HOW simple is that? WHY didn't I know?!
Instead of marinating chicken breasts for 20 to 30 minutes, you just brine them in salted water. THAT IS ALL. Goodbye.
Scouts honor, with this trick, you will never again eat another piece of dry, bland chicken breast. IF brining is not your thing, check out my recipe for Easy Baked Chicken Breasts that are extra juicy and full of flavor!
Looking for a quick stove top chicken? Grab my recipe for Juicy Stove Top Chicken Breasts.
SIMPLE CHICKEN BREAST BRINE
Take 4 chicken breasts and put them in a large bowl.
Pour 4 cups lukewarm water (about 90 to 105 degrees Fahrenheit) in a separate large cup or bowl and add 1/4 cup salt; stir to combine.
Pour the mixture over the chicken breasts and set aside for 20 to 30 minutes, or up to 2 hours.
HOW TO MAKE JUICY OVEN BAKED CHICKEN BREASTS
When ready, pour out the brine, then take each chicken piece and rinse under cold water; pat dry with paper towels.
Arrange chicken breasts in a 9×13 baking dish; rub olive oil all over each chicken breast and set aside.
HOMEMADE CHICKEN BREAST SEASONING
Prepare the seasoning by mixing together salt, fresh ground pepper, paprika, cayenne pepper, garlic powder, onion powder, dried thyme, dried basil, dried rosemary, and dried parsley.
Rub the seasoning all over each chicken breast.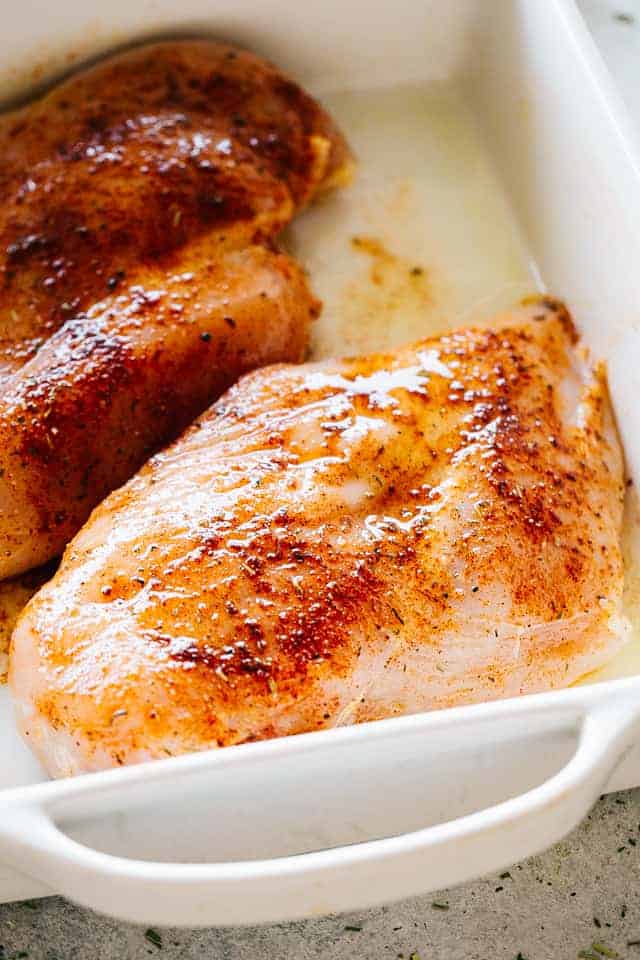 HOW LONG TO BAKE CHICKEN BREASTS
Transfer your chicken to the oven and cook at 425F for 22 to 25 minutes, or until internal temperature reaches 165F. Thinner breasts will need less time, thicker breasts might need a little more time in the oven. Start checking for doneness at the 20 minute mark.
As you can see, this method requires the simplest, easiest way to bake moist and tender chicken breasts in the oven. What's even better is that the chicken is just as tender and juicy even after refrigerating for 3 days.
If you have tricks and tips for baked chicken breasts, I'd LOVE to hear about it in the comments!
HOW TO STORE COOKED CHICKEN BREASTS
Refrigerate cooked and completely cooled chicken breasts in an airtight container for up to 4 days.
HOW TO FREEZE COOKED CHICKEN BREASTS
Wrap each cooked chicken breast in plastic wrap, then add a layer of aluminum foil over the plastic wrap.
Transfer the wrapped chicken breasts to a freezer bag and freeze for 4 months.
When ready to use, remove from freezer and set in the fridge overnight to thaw out.